You are here
Back to top
Sticker Mosaics: Christmas: Puzzle Together 12 Unique Holiday Designs (Paperback)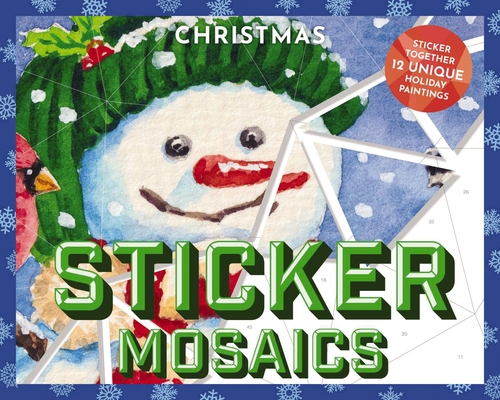 $16.95
Sorry, it looks like our distributor does not have copies of this book available. If you email or call us, we can double-check!
Description
---
Puzzle together 12 unique holiday designs with Sticker Mosaics: Christmas.

'Tis the season for sticker art! In the most recent edition of the beloved Sticker Mosaics series, Sticker Mosaics: Christmas brings the holidays to life with festive designs. No artistic skill is required to assemble these masterpieces—just match the stickers to their numbers in each design. Kids will be engaged with this activity book that encourages creativity and problem-solving skills. The designs are complicated enough to result in detailed, festive pictures, but simple enough that anyone of any age can complete them. And once you've created your masterpiece, the perforated pages make it easy to frame and display your finished work. Kids and adults alike will get into the spirit of the season with Christmas fun facts, which can be found on the back of each design. From Christmas trees and snowmen to reindeer and Santa Claus, you'll be amazed by the way these works of art come alive in front of your eyes.
About the Author
---
Dr. Julius Csotonyi is one of the world's most high-profile and talented contemporary scientific illustrators. His considerable academic expertise informs his stunning, dynamic art. He has created life-sized dinosaur murals for the Royal Ontario Museum and for the Children's Museum of Indianapolis, as well as most of the artwork for the exhibit "Deep Time" in the David H. Koch Hall of Fossils at the Smithsonian National Museum of Natural History in Washington, D.C. He lives in Canada. His books include Discovering Reptiles; Discovering Sharks; Discovering Bugs; Discovering Whales, Dolphins & Porpoises; Discovering Tigers, Lions, & Other Big Cats; The Paleoart of Julius Csotonyi; Prehistoric Predators; Dino World; Shark World; and Bug World.